ACCOMMODATING THE
SURROUNDINGS IN STYLE
The 12 thatched eco-sensitive rooms, with ocean or forest views, boast an earthy elegance, and are positioned to afford maximum privacy and minimal environmental impact. Thonga Beach Lodge is the ideal place to connect with one of Africa's last pristine wilderness beaches and rediscover your place in it.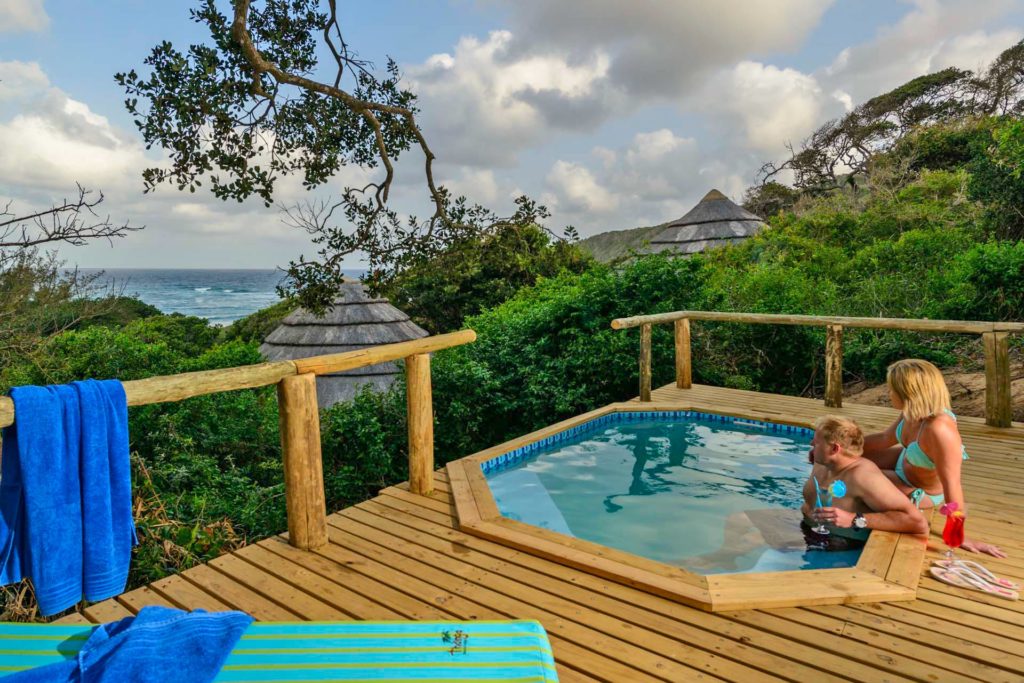 Honeymoon Suite
FROM R6220/ NIGHT
This spacious suite has sweeping views of the ocean and a private plunge pool, a setting you'll fall in love with. Thonga Beach Lodge is a perfect destination for an idyllic "Robinson Crusoe" beach honeymoon.
Your private luxury beach Honeymoon Suite is situated in an indigenous forest, surrounded by sounds of the sea. A romantic king size bed is dressed in crisp linen and dreamy mosquito netting. Enjoy a wide bath with complimentary bubble bath and candles in the privacy of your beach retreat.

"HEAVENLY PEACE"
An alternative to "resorts" giving one the chance to experience a really beautiful beach, peace and quiet, but all with exceptional thatched rondavels, boardwalks, good food and great management.
The trip up the road from Coastal Cashews is worth it!
There are plenty of options if you are into Scuba, snorkelling etc. and we used the fantastic Spa area, which boasted an outstanding young lady who really knew how to unkink the muscles and stimulate a feeling of wellbeing!! We both went twice and have never had such a good experience with a masseuse.
We slept like Lords and felt very privileged to have shared such a magical place.
Steve and Gerry
United Kingdom,
Stayed October 2019

"A great experience"
Wonderful lodge, wonderful food, very friendly staff, great location.
We had an ocean experience, a rainforest walk and a sundowner with really good guides.
We were completely satisfied, Thank you very much.
Jacob Skoeln
South Africa,
Stayed October 2019

"Top notch beach holiday in secluded dream location"
We had an absolutely fantastic time at Thonga Beach Lodge and can highly recommend it if you are looking for quiet and relaxing get-away. Bungalows are spacious and stylish and you fall asleep to the sound of the waves hitting the beach. The staff could not have been more friendly and service-minded, they tended to our every need and made their very best to make our stay memorable. Food is simply excellent, healthy and great variety of dishes. Our teenagers loved to alternate between the pools by the lodge and the beach just a few metres away. Beautiful pristine beach with great snorkelling possibilities. Highlight of our stay was swimming with dolphins during the ocean experience boat-trip. Loved every part of this holiday!
FarAway17475399714
South Africa,
Stayed March 2019

"An Exceptional Lodge In A Breathtaking Location"
We stayed five nights at Thonga Beach Lodge and enjoyed the experience immensely. The location on a 'wilderness' beach is quite simply stunning, with the lodge built into the dunes behind so that it is virtually invisible. Our cottage (number 4) was beautifully appointed and provided an excluded and very restful experience - the huge and very comfortable bed, large shower room and vanity area were all thoughtfully designed for maximum comfort.
The standard of food was exceptional (all meals plus afternoon tea are included), with a very wide choice of dishes. Table service is highly efficient and friendly. Staff at the lodge, many of whom come from the local community were, without exception, extremely friendly and very efficient - some of the best staff we have ever encountered and comparable with the best luxury hotels we have stayed in in the far east.
There is a wide range of activities to do, most of which are included. Scuba diving and the Ocean Experience are charged extra - these two activities involve a beach launch of the boat into the surf and a return beach landing that are both exciting and hair raising if one hasn't done it before.
All in all Thonga Beach Lodge exceeded our expectations in every respect. If you're looking for a unique place to spend a few days in stunning surroundings then we highly recommend it.
Jerem N
London, United Kingdom,
Stayed September 2019

"Holiday in Paradise"
There is no other place in the world like Thonga Beach. Best place to see dolphins and whales. Best accommodation in South Africa, with delightful meals. A remote beach with outstanding ocean experiences.
Thank you Thonga, for a truly memorable stay. And a special shout-out to Siphiwe, the resort's wonderful evening barman. We'll be back!
Günther K
Neulengbach, Österreich,
Stayed August 2019

"Great location at the eastern shores of South Africa"
We visited Thonga Beach at the end of 2019 and enjoyed NewYear in the lodge. The lodga is beautifully situated on a picture-perfect beach. We spent 3 nights in the Deluxe Family Ocean View chalet (nr. 8) and this was magnificient. We had two seperate rooms and a nice plunge pool with ocean views.... We drove down from Kruger to this lodge and it's a great complementary location to add to a safari trip. Food was excellent, nice staff, great rooms.
Kristof_and_family
Beringen, Belgium
Stayed December 2019

"Heaven on earth"
The place is heaven on earth! Everything fits perfectly, all staff members did an outstanding job in making us feel welcome and at home, but especially David, who helped us in a private emergency situation, thanks again.The food was always delicious.
travelheinzi
Neulengbach, Österreich,
Stayed January 2020

"A Fantastic Family Visit"
We had a wonderful stay, thank you. The staff were fantastic - Purity, Sthembiso, Simphiwe, Sphiwe, Bheki to name just a few. Activities, dining, bar, spa, location were all excellent. We hope to return in the not too distant future!
alexJ9400YT
Johannesburg, South Africa,
Stayed January 2020