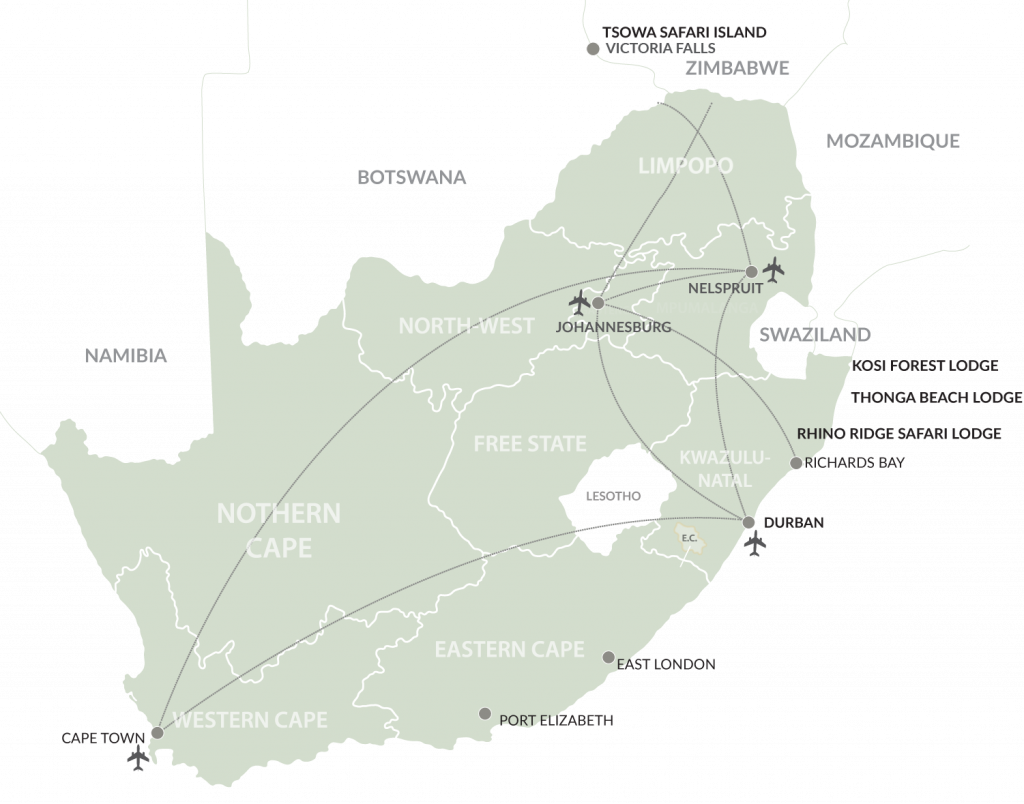 South Africa's most pristine wilderness beach lodge awaits you on the azure shores of the iSimangaliso Wetland Park (UNESCO World Heritage Site). Situated deep in this wilderness of white beaches, blazing corals and freshwater lakes lies South Africa's premier beach destination. Every now and again something special comes along... We welcome you to our 24-bed luxury lodge, where nature is our sanctuary and our purpose is to preserve it.
ACCESS BY ROAD
A 4×4 is required and secure parking is available at Coastal Cashews for guest vehicles. Daily transfers at 12h00 and 15h00 are available at an additional charge from Coastal Cashews, and out of the lodge at 10h30.
ACCOMMODATION
This luxury beach lodge offers five room types all built with wood, thatch and glass on raised platforms. They are set in indigenous coastal bush, nestled in undulating dunes, a stone's throw away from the sea.
SEASON HIGHLIGHTS
November-February is turtle breeding season and April-June has the best weather. Diving is best in Summer, December-May when average visibility is 15-20 metres, with a June-September average of 10-15 metres.
Experiences
Turtle Tracking
In summer, nocturnal walks and drives along the beach in search of egg-laying turtles are available every night (Nov-Feb). 
Thonga Beach Lodge gives guests a unique opportunity to discover the incredible world below the surface. The lodge has a resident diving instructor and offers a range of accredited, comprehensive SCUBA diving courses. Considered to be the premier dive site in South Africa, Mabibi is the perfect place for beginner and advanced divers.
The best small hotel/lodge we have been to in Southern Africa. The best hotel food in Southern Africa, superb friendly, helpful, knowledgable staff. This has been achieved without much of a footprint on the natural environment. The absence of televison and mobile phone reception is a blessing, as the wifi service is good and there is still some form of communication.
Richard H
Richards Bay, South Africa Stayed December 2020

"100% rating"
Thonga Beach Lodge has managed to create an ideal atmosphere. Relaxed, family orientated but still a complete spoil. Food is delicious, rooms are stylish and staff are friendly. It's position is on an amazing stretch of coastline and if snorkelling or diving is not your thing, then you can just relax on the sundeck with a G&T, watch the whales and soak up the sun. Need to destress? Visit Thonga!!!
Andrew & Tanya
South Africa,
Stayed September 2020

"Top notch beach holiday in secluded dream location"
We had an absolutely fantastic time at Thonga Beach Lodge and can highly recommend it if you are looking for quiet and relaxing get-away. Bungalows are spacious and stylish and you fall asleep to the sound of the waves hitting the beach. The staff could not have been more friendly and service-minded, they tended to our every need and made their very best to make our stay memorable. Food is simply excellent, healthy and great variety of dishes. Our teenagers loved to alternate between the pools by the lodge and the beach just a few metres away. Beautiful pristine beach with great snorkelling possibilities. Highlight of our stay was swimming with dolphins during the ocean experience boat-trip. Loved every part of this holiday!
FarAway17475399714
South Africa,
Stayed March 2019

"An Exceptional Lodge In A Breathtaking Location"
We stayed five nights at Thonga Beach Lodge and enjoyed the experience immensely. The location on a 'wilderness' beach is quite simply stunning, with the lodge built into the dunes behind so that it is virtually invisible. Our cottage (number 4) was beautifully appointed and provided an excluded and very restful experience - the huge and very comfortable bed, large shower room and vanity area were all thoughtfully designed for maximum comfort.
The standard of food was exceptional (all meals plus afternoon tea are included), with a very wide choice of dishes. Table service is highly efficient and friendly. Staff at the lodge, many of whom come from the local community were, without exception, extremely friendly and very efficient - some of the best staff we have ever encountered and comparable with the best luxury hotels we have stayed in in the far east.
There is a wide range of activities to do, most of which are included. Scuba diving and the Ocean Experience are charged extra - these two activities involve a beach launch of the boat into the surf and a return beach landing that are both exciting and hair raising if one hasn't done it before.
All in all Thonga Beach Lodge exceeded our expectations in every respect. If you're looking for a unique place to spend a few days in stunning surroundings then we highly recommend it.
Jerem N
London, United Kingdom,
Stayed September 2019

"Holiday in Paradise"
There is no other place in the world like Thonga Beach. Best place to see dolphins and whales. Best accommodation in South Africa, with delightful meals. A remote beach with outstanding ocean experiences.
Thank you Thonga, for a truly memorable stay. And a special shout-out to Siphiwe, the resort's wonderful evening barman. We'll be back!
Günther K
Neulengbach, Österreich,
Stayed August 2019

"Great location at the eastern shores of South Africa"
We visited Thonga Beach at the end of 2019 and enjoyed NewYear in the lodge. The lodga is beautifully situated on a picture-perfect beach. We spent 3 nights in the Deluxe Family Ocean View chalet (nr. 8) and this was magnificient. We had two seperate rooms and a nice plunge pool with ocean views.... We drove down from Kruger to this lodge and it's a great complementary location to add to a safari trip. Food was excellent, nice staff, great rooms.
Kristof_and_family
Beringen, Belgium
Stayed December 2019

"Heaven on earth"
The place is heaven on earth! Everything fits perfectly, all staff members did an outstanding job in making us feel welcome and at home, but especially David, who helped us in a private emergency situation, thanks again.The food was always delicious.
travelheinzi
Neulengbach, Österreich,
Stayed January 2020

"A Fantastic Family Visit"
We had a wonderful stay, thank you. The staff were fantastic - Purity, Sthembiso, Simphiwe, Sphiwe, Bheki to name just a few. Activities, dining, bar, spa, location were all excellent. We hope to return in the not too distant future!
alexJ9400YT
Johannesburg, South Africa,
Stayed January 2020

"Thonga Magic"
Thonga offers the most beautiful beach walks, delicious meals and just an amazing relaxing, quiet, holiday. Every need is met with a lovely forest walk, a trip to watch the sun setting and a relaxing spa. This is the most stress-free holiday to enjoy with excellent value for money.
The Lumleys
Johannesburg,Stayed October 2020
"5 days of bliss"
We stayed for 5 days at Thonga Beach Lodge. It was absolute bliss. It was acomplete switch off from all electronics (no cellphone reception and no TV, only wifi in the main area). We went for 2 fantastic dives on their secluded reefs, the food was phenomenal and the service was excellent. I would definitely recommend Thonga for a romantic getaway. It is a hidden gem!
CamillaDuToit
tripadvisor.jpg