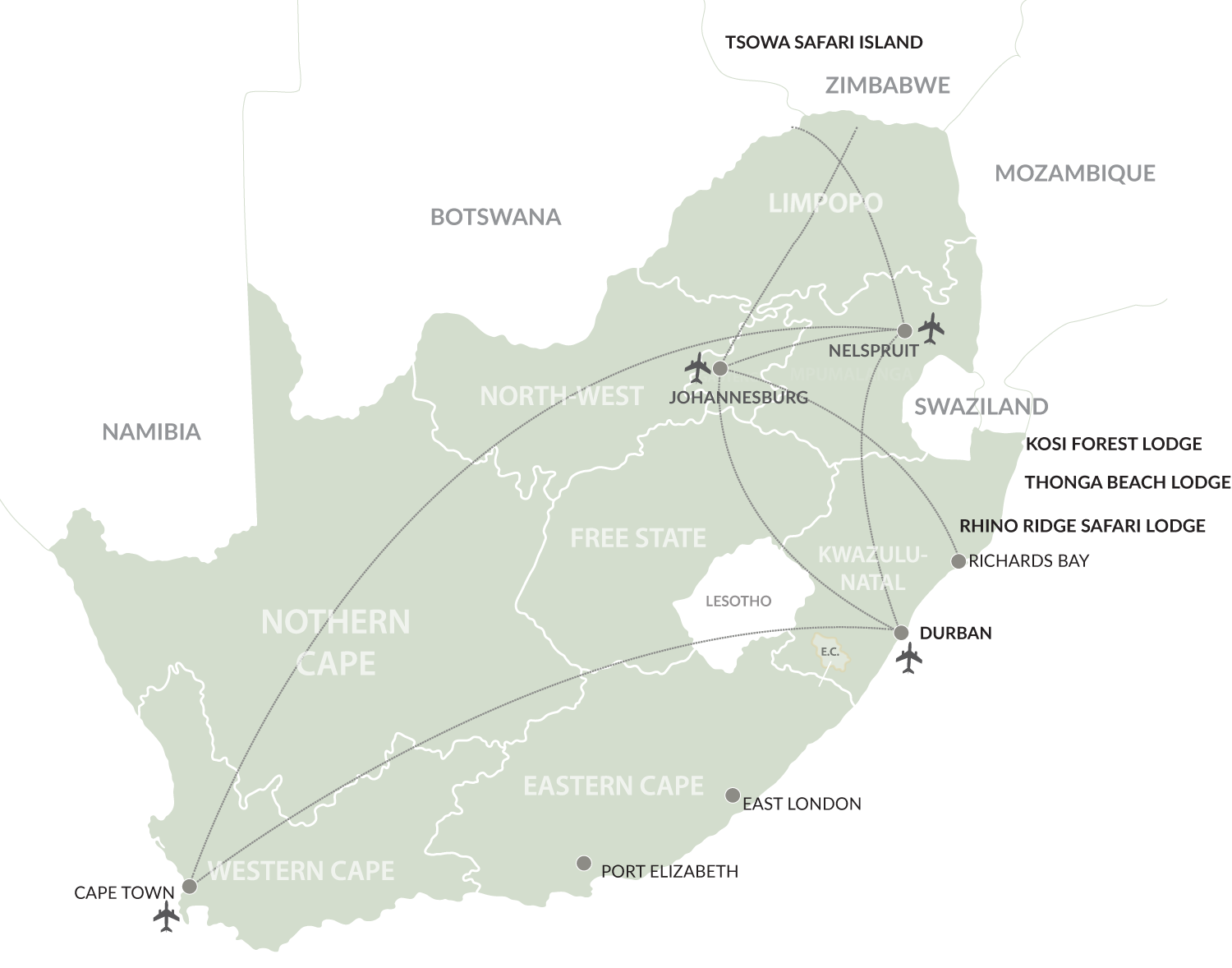 South Africa's most pristine wilderness beach lodge awaits you on the azure shores of the iSimangaliso Wetland Park (UNESCO World Heritage Site). Situated deep in this wilderness of white beaches, blazing corals and freshwater lakes lies South Africa's premier beach destination. Every now and again something special comes along... We welcome you to our 24-bed luxury lodge, where nature is our sanctuary and our purpose is to preserve it.
ACCESS BY ROAD
A 4×4 is required and secure parking is available at Coastal Cashews for guest vehicles. Daily transfers at 12h00 and 15h00 are available at an additional charge from Coastal Cashews, and out of the lodge at 10h30.
ACCOMMODATION
This luxury beach lodge offers five room types all built with wood, thatch and glass on raised platforms. They are set in indigenous coastal bush, nestled in undulating dunes, a stone's throw away from the sea.
SEASON HIGHLIGHTS
November-February is turtle breeding season and April-June has the best weather. Diving is best in Summer, December-May when average visibility is 15-20 metres, with a June-September average of 10-15 metres.
Experiences
Turtle Tracking
In summer, nocturnal walks and drives along the beach in search of egg-laying turtles are available every night (Nov-Feb). 
Thonga Beach Lodge gives guests a unique opportunity to discover the incredible world below the surface. The lodge has a resident diving instructor and offers a range of accredited, comprehensive SCUBA diving courses. Considered to be the premier dive site in South Africa, Mabibi is the perfect place for beginner and advanced divers.

"A great getaway"
Thonga is a wonderful beach retreat. It's situated on a beautiful stretch of coast and my only regret was that we weren't there during turtle season. The staff at Thonga are lovely and very knowledgeable about the local area and wildlife. Also the food is fabulous! We stayed in the family suite, sometimes referred to by staff as the 'honeymoon suite' as it felt more private and had great views of the ocean. A special mention goes out to Tessa who was a fantastic manager - always looking after us and dedicated to making our visit special.
Debbie and Family
United Kingdom,
Stayed February 2018

"Paradise off the beaten track"
Thonga is a wonderful beach retreat. It'sThis is a uniquely situated hotel, sitting on many kilometres of untouched beach (it's a UNESCO World Heritage Site) - you feel truly alone and at one with nature. It is planted next to the small Zulu village of Mabibi - I loved the fact the village has a stake in the hotel and 95% of staff are Mabibi residents, giving a special opportunity to a rural community. 
Kie Walker
South Africa,
Stayed February 2019

"Top notch beach holiday in secluded dream location"
We had an absolutely fantastic time at Thonga Beach Lodge and can highly recommend it if you are looking for quiet and relaxing get-away. Bungalows are spacious and stylish and you fall asleep to the sound of the waves hitting the beach. The staff could not have been more friendly and service-minded, they tended to our every need and made their very best to make our stay memorable. Food is simply excellent, healthy and great variety of dishes. Our teenagers loved to alternate between the pools by the lodge and the beach just a few metres away. Beautiful pristine beach with great snorkelling possibilities. Highlight of our stay was swimming with dolphins during the ocean experience boat-trip. Loved every part of this holiday!
FarAway17475399714
South Africa,
Stayed March 2019

"Magical"
Thonga is an experience of a lifetime. A wonderful place to disappear from the hustle and bustle of normal life and remind oneself about the wonderful natural world that miraculously still exists in such sacred pockets of the earth. We were lucky to see both leatherback and loggerhead turtles laying their eggs on the beach and the experience was amazing and humbling at the same time. We swam amongst dolphins, and admired colourful and varied sealife whilst snorkelling in sheltered rock pools: All this whilst relaxing and enjoying utterly delicious fare. A magical time for all our family. Thank you!
Trip229232
South Africa,
Stayed December 2018

"Glorious"
We spent three nights at Thonga Beach Lodge and they were the absolute highlight of our holiday in South Africa. Staff are warm, hospitable and a delight to deal with. The food is seriously fantastic, Michelin-star quality. Our room was spacious, immaculately clean and had every convenience we could wish for. Oh, and then there's the beach .... miles of it, with just one or two other people in sight. What a phenomenal place.
Thank you Thonga, for a truly memorable stay. And a special shout-out to Siphiwe, the resort's wonderful evening barman. We'll be back!
Gastro Gertie
East Sussex, United Kingdom,
Stayed December 2018