3 NIGHTS THONGA BEACH LODGE
iSimangaliso Wetland Park
Rates Available On Request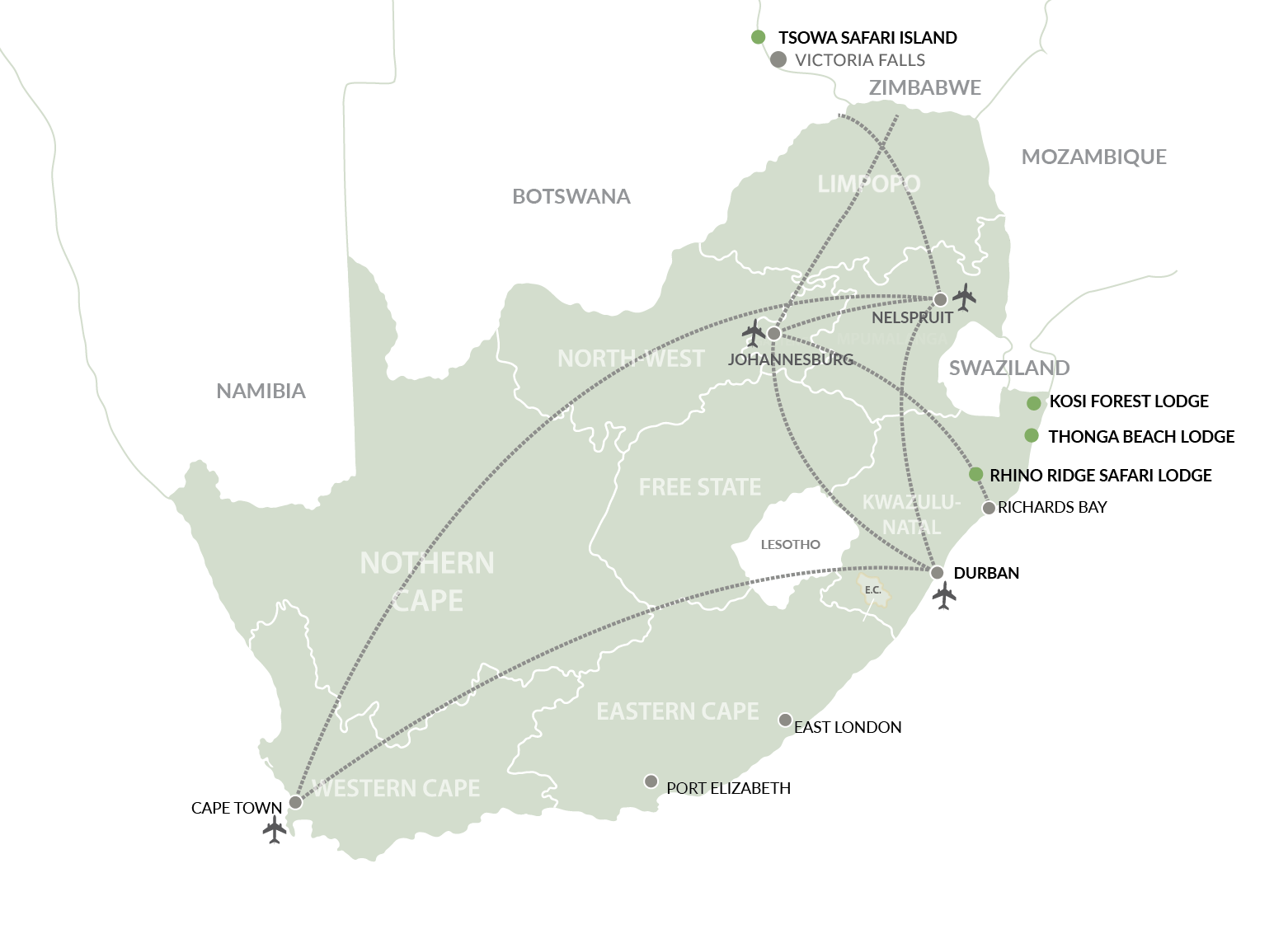 3 nights accommodation in a Forest View Room (upgradeable to Ocean View or Deluxe Ocean View Room at additional cost), all meals, teas and coffees, guided forest walks, guided kayaking on Lake Sibaya, guided snorkeling, cultural tour of Mabibi Village, sundowners at Lake Sibaya and 1 turtle drive.
4X4 transfers, park fees, drinks, gratuities and items of a personal nature.
Night 1
Thonga Beach Lodge
iSimangaliso Wetland Park
Driving northwards on the N2 highway from King Shaka International Airport (Durban) you will pass the rolling green hills of the cane fields of KwaZulu-Natal flanked by the Indian Ocean. Your route will take you through the small town of Hluhluwe, the gateway to the game reserves of KwaZulu-Natal and parts of the iSimangaliso Wetland Park Unesco World Heritage Site.
Thonga Beach Lodge, situated in a remote part of the iSimangaliso Park, is accessible by 4×4 vehicle only. The drive from KSIA to the 4×4 pickup point (Coastal Cashews) takes 4 hours and then you have an exciting 4×4 trip in an open vehicle over gravel roads, plantations and shimmering grasslands to the Robinson Crusoe hideaway that is Thonga Beach Lodge.
On arrival you will be welcomed with a refreshing drink and given a brief orientation of the lodge before being shown to your room and given time to unpack and relax before coming through for lunch. After enjoying one of the many activities hosted at Thonga, you will have time to freshen up and enjoy a cocktail at the bar before settling down for a delicious meal under the stars.
Night 2
Thonga Beach Lodge
iSimangaliso Wetland Park
Thonga Beach Lodge is set on the secluded Mabibi Bay, in the heart of the iSimangaliso (formerly Greater St Lucia) Wetland Park. With direct access onto the pristine shores of the Maputaland coast, this lodge is the ideal place to discover one of the last unspoilt and undeveloped wilderness beaches left on the African continent. Mabibi is a magical place of tranquil swimming bays and snorkeling reefs, coastal forests, grasslands, bush, shimmering lakes and exquisite sandy beaches. It's clear warm waters offer superb snorkeling and fantastic offshore SCUBA diving.
The 12 thatched en-suite eco-sensitive rooms have been carefully constructed in the coastal dune forest to ensure minimum impact on the environment and maximum guest privacy. Each room has a double vanity, indoor shower, mini bar, air conditioning, ceiling fan and mosquito net. Deluxe Rooms and Family Rooms have baths, and the Deluxe Rooms have outdoor showers.
Activities at Thonga Beach Lodge include SCUBA diving, open ocean experiences, kayaking and sundowners at Lake Sibaya, guided snorkeling, seasonal turtle drives/walks, Tsonga cultural tours and forest walks. Whether you are a walker or a diver, take advantage of the wealth of activities that await you in this beautiful hideaway, or simply relax with a spa treatment on the beach deck.
Night 3
Thonga Beach Lodge
iSimangaliso Wetland Park
SCUBA diving at Mabibi is phenomenal. Our professional lodge diving team can accommodate enthusiasts, from the beginner to the veteran. For those who don't dive, we have an open ocean experience. An exciting launch through the surf in front of the lodge takes you beyond the breakers to a world of dolphins, whales and many other creatures. The warm Indian Ocean supports a myriad of fish and marine life. Guests can sometimes swim with dolphins or whale sharks, or snorkel with manta rays and giant turtles.
Your package includes 1 turtle tracking drive. The lodge has a concession to drive 22km up the beach in either direction (north or south) once per night at low tide from 1 November to 28 February. The drives are conducted in an open 4×4 vehicle and accommodate a maximum of 9 guests plus a guide. The drive leaves the lodge anytime from 5:30 in the evening to 4 in the morning depending on when low tide is and can last anything up to 3.5 hours. Warm blankets, ponchos and halfway refreshments are provided on the drive. The guide drives the vehicle along the beach using a strong searchlight looking for large tracks up the beach left by nesting turtles. Once a fresh track is spotted he will stop the vehicle and follow the tracks to find the female turtle and assess if it is alright for guests to get out of the vehicle and come and witness the culmination of an incredible journey as either giant leatherback or loggerhead turtles lay their eggs in carefully prepared nests. Every precaution is taken to ensure these magnificent creatures are not disturbed during the laying process and data collected from the turtle drives is submitted to the Ezemvelo Turtle Monitoring Programme.
Typically during November and December the mothers can be seen laying their eggs which hatch 60 days later which means that one has more likelihood of seeing the baby hatchlings appear and make their desperate rush to the sea during January and February. The lodge also offers guided walks along the beach at night in search of turtles. There is no charge for this activity.
Every now and again something special comes along… like Thonga Beach Lodge, the unspoilt gem of KwaZulu-Natal's Maputaland coast. Situated in South Africa's first World Heritage Site, the iSimangaliso Wetland Park, Thonga Beach Lodge is mere metres away from the sparkling Indian Ocean. Beneath the breakers lies a treasure trove of marine life, from vivid reef fish to schools of dolphins, and even turtles returning to the beach to lay their eggs. Thonga's 12 thatched eco-sensitive rooms are positioned for maximum privacy and minimal environmental impact. The rooms are built on raised platforms among the indigenous forest and undulating dunes with expansive glass windows and doors to let in the ocean breeze and sounds.
Make your journey all the more memorable when you enjoy close encounters with nature. Indulge in a spa treatment; track mother turtles laying their eggs; explore the reefs beneath with a snorkel or SCUBA dive; or go on a guided forest walk. Feel assured that you're travelling with purpose, discovering and helping to preserve one of the last undeveloped wilderness beaches left on the African continent. Please visit the website for more information: www.thongabeachlodge.co.za