Diving
SCUBA diving at Thonga
Become a local on the reef! SCUBA diving at Thonga Beach is phenomenal, with reefs located only a short distance from the lodge. Shoals of game fish, sharks and schools of bottlenose dolphins are often encountered. All enthusiasts are welcome, from the beginner to the veteran. SCUBA training is also available at our PADI dive centre.
Our professional lodge diving team accommodates all enthusiasts wanting a tour of the very best our reefs have to offer. 1,250 fish species occur on the reefs in this area (the Great Barrier Reef has 1500). Dives are from a semi-rigid dive boat which accommodates a maximum of 8 divers at a time.
To get to our reefs, we start with a shore entry boat launch, where the skipper, dive master and divers, with the help of a tractor, push our 7 metre boat into the surf, directly in front of the lodge. This is a normal boat launch procedure for this part of the coastline and for most guests, probably the first time they will have experienced a launch of this nature. It is exciting and adventurous however the launch can be strenuous, so a reasonable level of fitness is required.
SCUBA training is available at our PADI dive centre. If you are already certified, please bring proof of your diving qualification. We regret no children under 10 years, but kids aged 10 and up can do a Discover SCUBA Diving (DSD) or Open Water Diver Course. Please note that guests must be of a reasonable fitness level to dive. Diving is weather and tide dependent, as these affect boat launchings and at times can be cancelled at the last minute.
Our resident Instructor is PADI trained and certified and offers a variety of courses to suit your individual requirements to get you breathing underwater and exploring the spectacular coral reefs at Thonga. Diving at Thonga has been rated as some of the best in the world by seasoned divers. This coastline is typically verged by a continental shelf stretching for about three to five kilometres out to sea, before giving way to deeper, abyssal waters, but the shallow shelf immediately offshore is cut through by several canyon like reefs, relics of riverine erosion from a time when the ocean level was lower than it is today. Our PADI trained and certified instructors are passionate about the Indian Ocean and are able to share this infectious love of the sea by taking you to beyond the breakers and below the surface.
Dive Sites Include: Gogo's | Brewer's Gardens | Pine / Yellowfin | Coral Alley | Slingers | Water World | 3 Sisters / Coachman's Ledge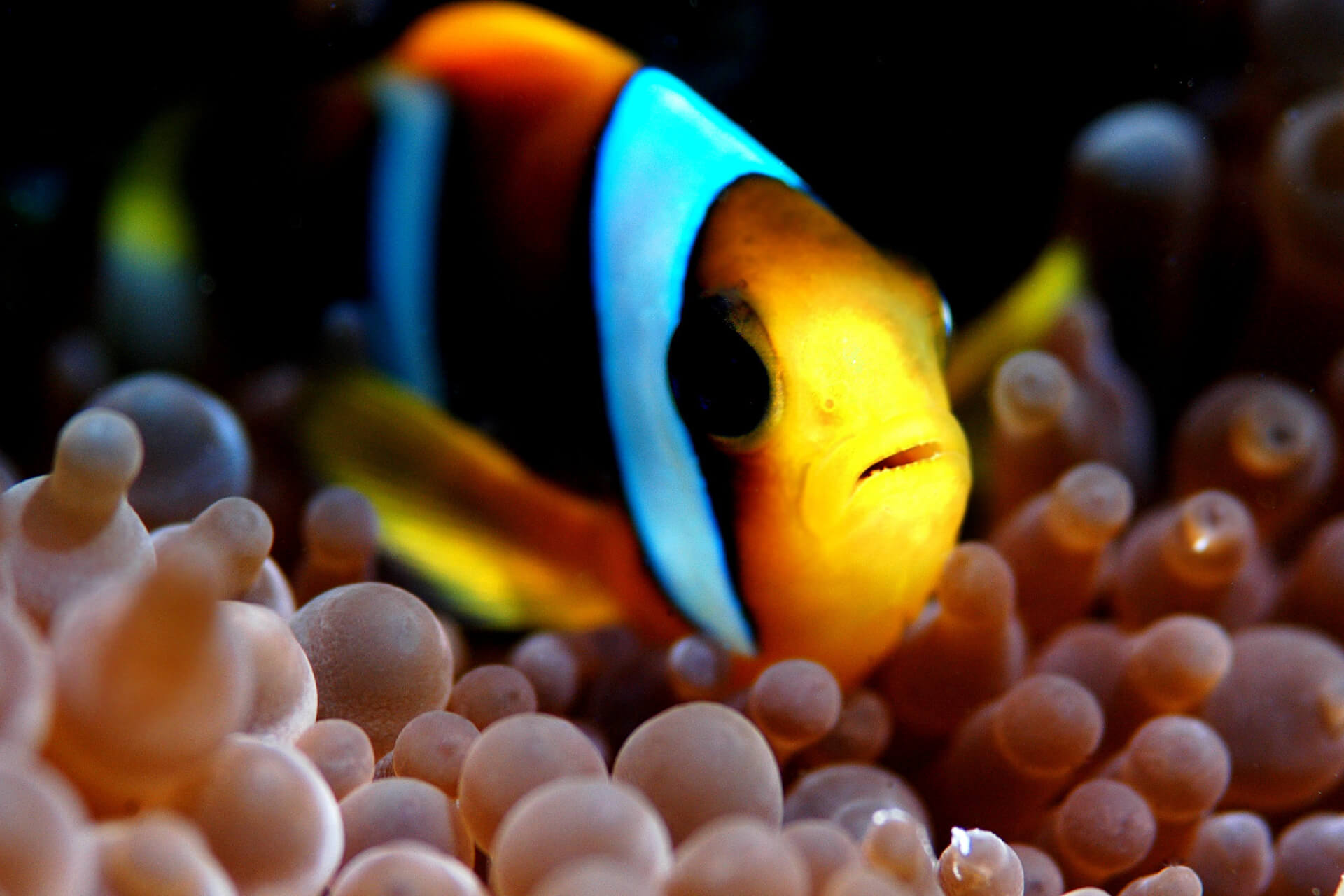 Rated as some of the best in the world
SCUBA training available
1,250 fish species occur on the reefs in the area
Variety of dive sites
Gogos is our most exciting and beautiful reef. Situated just beyond the backline, right in front of our lodge, makes the boat trip to this site less than 5 minutes! The name Gogos means 'Old Woman' in Zulu and it refers to the old woman Angelfish that swim mid-water above the reef, playing with and biting diver's bubbles.
Gogo's depth ranges from 10 metres to a maximum of 18 metres and has a combination of a main, solid reef structure with rock and coral outcrops in impressive shapes and formations. Sand patches between the reefs often offer ray sightings. As if the reef structure isn't impressive enough, this reef offers a prolific array of fish, not only in numbers but also variety. Then add other sea-life like turtles, shrimps, lobster, anenomies, tiger cowries and you can see why a good dive on Gogos is hard to beat.
There is also a resident potato bass who has surprised many of our divers by seeming to appear from nowhere to join in the fun!
This reef offers spectacular big game and reef fish. It is situated a little further offshore, with an average depth of 16 metres and a maximum of 22 metres. On the northern side of the reef a small ledge starts developing into a wall as we move southwards. It's a good idea to bring a dive torch along, as there are several deep caves and crevices where moray eels, different type of shrimp and other interesting sea-life are frequently spotted. Further south the wall fades to a steep slope and the sandy bottom is replaced by more reefs with plenty of interesting hiding places. A cloud of yellow banded snapper usually hovers at the base of the slope.
Higher up the incline are more caves with anything from Lobster to lionfish present. On the south side the slope gradually fades out again to a flat reef.
A world of underwater entertainment… this very exciting reef offers spectacular coral, canyons and swim-throughs. Waterworld is situated only a couple of hundred metres from the shore and starts at a depth of 7 metres with a maximum depth of 14 metres. From the minute we roll over and descend down to the reef it feels like an amusement park. Swimming down the canyons, there is coral splashed out on the walls, which goes up and over into the next cove and canyon.
For the experienced diver, there are two swim-throughs, guarded by Chubs and Baardman.
This reef is absolutely covered in pristine coral. Because of the depth, this underwater playground seems to attract a lot of playful, juvenile fish of all species. Brightly coloured fusiliers often swim over in mid-water. Turtles are plentiful and can often be seen sleeping in caves or heading up to the surface for some fresh air. The sighting of a regal angel is also possible. However, this dive is more suitable to calm sea conditions.
DIVE COURSES AVAILABLE AT THONGA BEACH LODGE
PRE-ENTRY LEVEL
Bubble Maker
The Bubble Maker is a great way to let kids engage with nature while you enjoy Thonga's peace and tranquility. The course is a great introduction to SCUBA, using SCUBA equipment in the swimming pool, allowing them to play around under close supervision of an instructor. The course is open to anyone between the ages of 8 -10.
ENTRY LEVEL
DSD – Discover Scuba Dive – from 10 years and older
Keen to try a dive? Then this is the course for you! Your PADI Instructor will teach you how to breathe underwater, covering a few skills and getting you comfortable and confident in the swimming pool training session. Once you have completed the necessary skills and had some fun in the swimming pool, your instructor will then take you out for a shallow dive on one of our stunning reefs. This course does not give you a scuba certification, but is the first step of the open water course.
Includes: Crew pack with dive tables, pic cards, log book and dive book, dive theory, pool training and 2 x ocean dives.
OPEN WATER DIVER & JUNIOR OPEN WATER DIVER
At least four days and five nights is required for this course. It will give you a full open water diving certification and allows you and your buddy to dive independently to a depth of 18m. This course is recommended to all those that would like to start diving regularly and is recognized internationally. Open to anyone over 12 years of age.
Includes: Crew pack with dive tables, pic cards, log book and dive book, dive theory, pool training and 4 x ocean dives
For those people who want to do the full open water certification course but who do not want to spend their time at Thonga studying dive theory and in the pool, we recommend you do all your training at home and then just bring along all the relevant documents. We will then do your 4 x open water dives at Thonga. Remember, you will have to do your training with a PADI instructor.
Includes PIC card and 4 x ocean dives
This course is ideal for those who have not dived in some time – 2 years or more – and would like to brush up on their skills before going for a dive. Our PADI Instructor will conduct the short (45 mins – 1 hour) refresher course in our swimming pool and cover skills such as buoyancy, mask clearing and regulator recovery. Familiarising yourself with the dive equipment and feeling comfortable underwater again are what this course is all about. A must for those that want to have peace of mind before a dive – feeling confidant, relaxed and ready to have fun and enjoy your dive to the full!!
Advanced Open Water Diver and Junior Advanced Open Water Diver
This qualification provides the qualified diver with additional experienc through a structured, well-supervised course and will allow you to dive up to depths of 30m. There are two mandatory dives, the Deep Diver and the Navigation Diver and 3 elective dives.
At Thonga Beach Lodge Marine Centre we make every effort to ensure that our guests have an awesome experience, but we will not compromise safety and will not take people diving if we feel they are not capable of diving the current conditions. All courses are weather and tide dependent.
The boat is launched with a tractor in front of the lodge and can only be done around the low tide because of the large shore break waves that come up at high tide. When the tide is low in the morning launches will be done early, when the low tide is in the afternoon, launches will be later. For this reason, when the boat is launched, it is not possible to launch for another dive later in the day. We can do 2 dives in a day, but then we take 2 cylinders with us as well as food and drinks for a 2 dive excursion.
Please note that the launch site for the boat at Mabibi is particularly difficult due to large surf and a launch site exposed to the full force of the Indian Ocean. It will be at the skipper's discretion whether to launch the boat and there is a minimum age limit for the boat of 12 years. This is also at to the skipper's discretion should he feel the sea is calm enough to take out younger boat riders. We do have to cancel many launches for safety reasons but often the snorkel pool is still safe enough to enjoy when we cannot launch the boat.
Diving is weather and tide dependant.
We regret no children under 10 years, but kids aged 10 and up can do a Discover SCUBA Diving (DSD) or Open Water Diver Course.
Guests must be of a reasonable fitness level to dive.
It is best to plan your diving around the summer months from December to June for the best chance of good sea conditions. It is also advisable to visit when the low tide is in the morning.
Please follow this link to check the tides for our area for the time you are arriving: http://sanho.co.za/tides/tide_index.htm scroll to Richards Bay and select the month you are coming.
Equipment for SCUBA Diving and snorkeling : The lodge has excellent well maintained equipment for SCUBA diving and snorkeling. Scubapro Glidetech BCD's and Scuba-pro regulators. There is a large selection of 5mm full wetsuits, weight belts, fins and masks. There are also rash vests available which protect one from the harsh African sun. We do not supply any Nitrox fills as all our reefs are fairly shallow. We have 10 litre and 12 litre steel tanks.
NB: We do not supply dive computers, hoodies, gloves, cameras or any other personalized equipment.