7 NIGHT KZN Hideaway Honeymoon
KwaZulu-Natal
Package #51
Rates available on request
3 KOSI FOREST LODGE
iSimangaliso Wetland Park
4 NIGHTS THONGA BEACH LODGE
iSimangaliso Wetland Park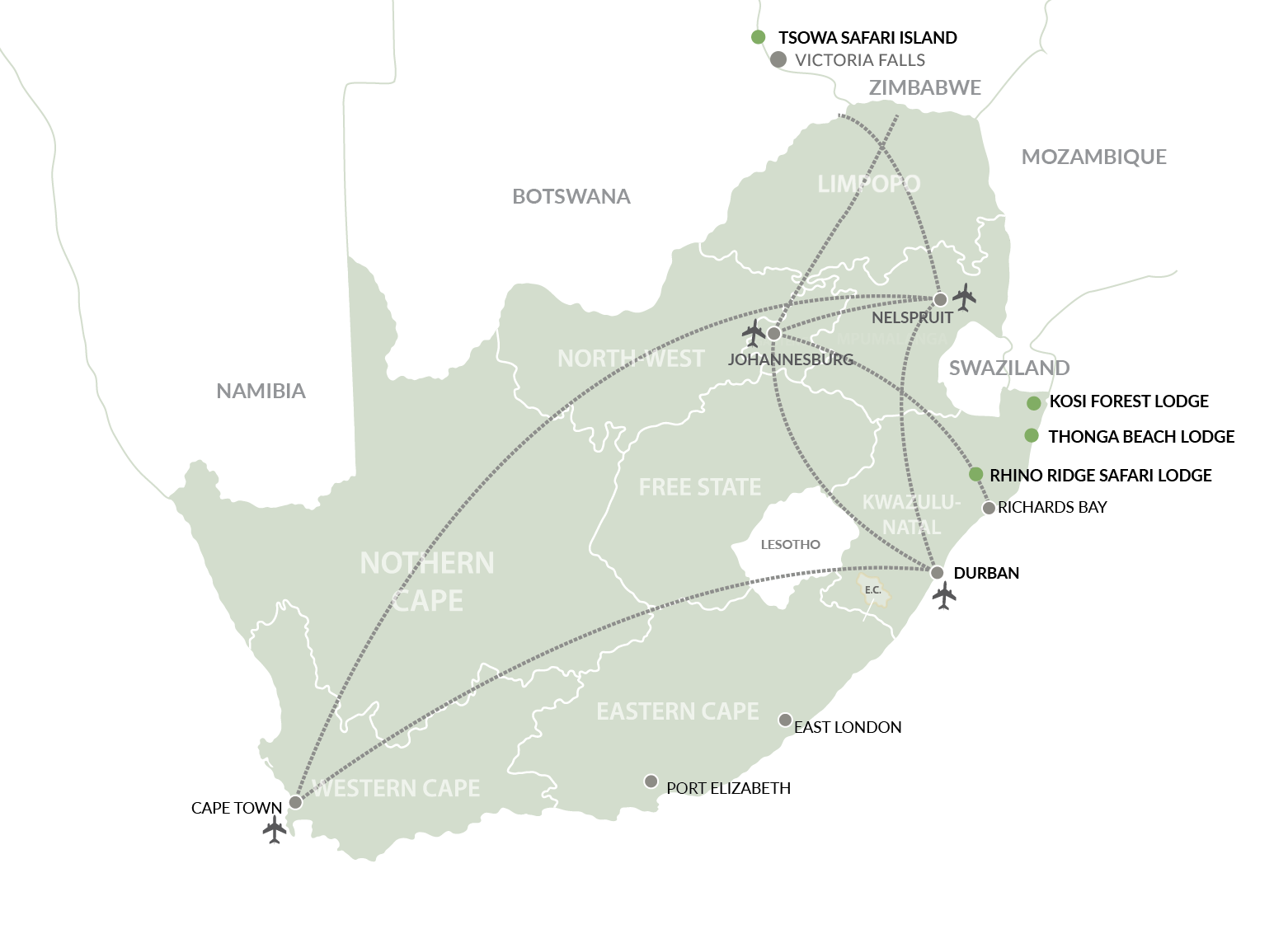 Kosi Forest Lodge
3 nights' accommodation, breakfast, lunch and dinner, teas and coffees, canoeing on Kosi Lake System and walk in raffia forest.
Thonga Beach Lodge
4 nights' accommodation in an Ocean View Room with private plunge pool, all meals, teas and coffees, use of snorkeling equipment, guided walks, cultural tours, kayaking and sundowners at Lake Sibaya. 3 times a week nightly turtle walks (Nov – Feb). Complimentary bottle of sparkling wine, chocolates, 15 min back, neck and shoulder massage. Private dinner and dune picnic.
Park fees, drinks, laundry, gratuities and items of a personal nature, inter-lodge transfers and 4×4 transfers.
Thonga Beach Lodge
Spa treatments, SCUBA diving, open ocean experience, dive equipment hire and vehicle driven turtle tracking tours.
Kosi Forest Lodge
Motorised boat trip on Kosi Lakes System, 4×4 day trip to Kosi Bay Mouth and 4×4 turtle tours.
Extra days can be added at any of the lodges and other Isibindi  Africa Lodges properties can be added to this itinerary.
Contact [email protected] for your tailor-made package.
Night 1 Itinerary
KOSI FOREST LODGE
iSimangaliso Wetland Park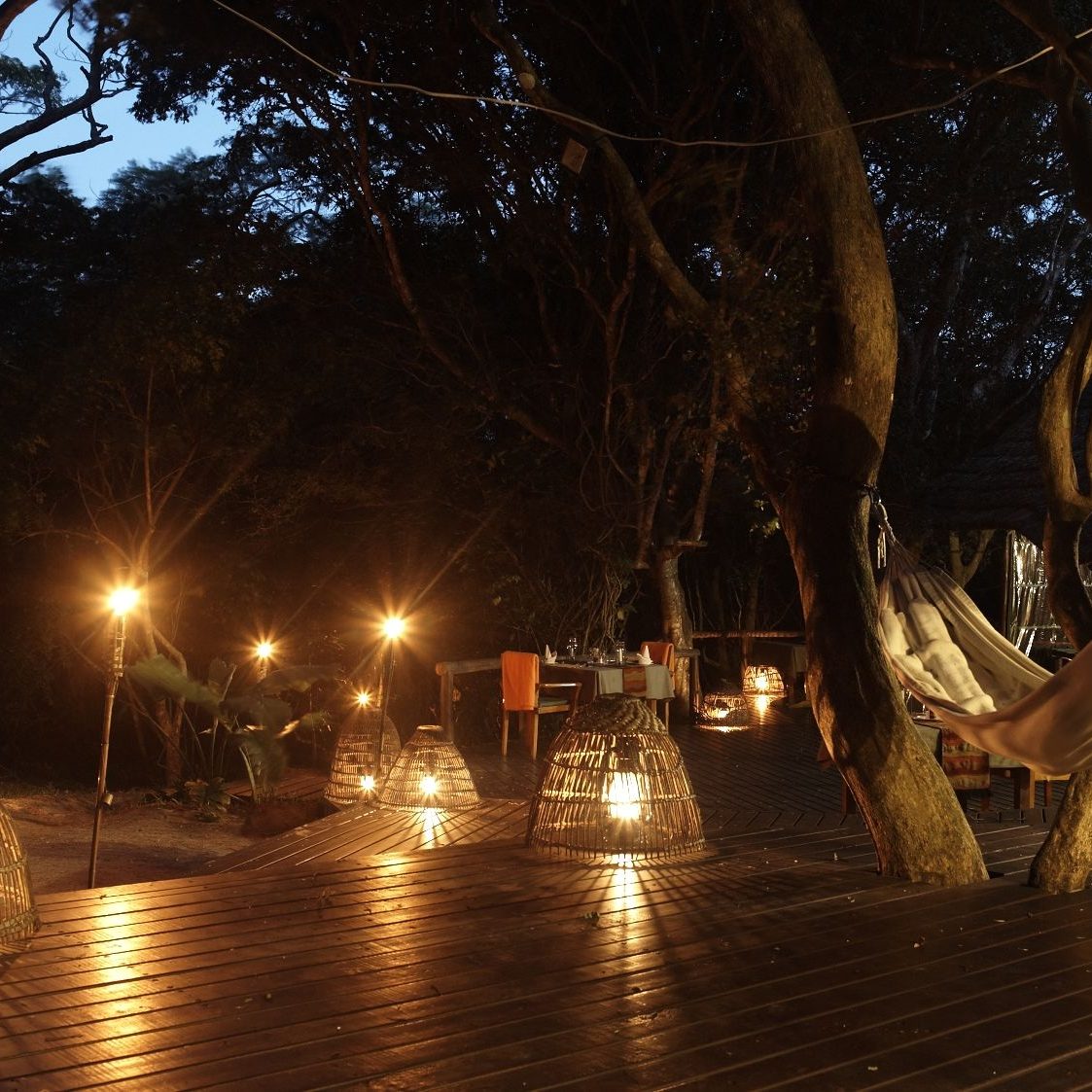 Kosi Forest Lodge is a 5.5 hour drive from King Shaka International Airport, Durban. For those guests travelling in 2×4 vehicles you will leave your vehicle in a secure parking area in the nearby town of Manguzi from where you will enjoy a 20 minute transfer to the lodge. Remember to keep a hat/cap and warm jacket out as the transfer will be in an open 4×4 vehicle.
Kosi Forest Lodge is situated in the Kosi Bay Nature Reserve. This 20-bed wilderness lodge offers the unique opportunity of exploring a pristine wetland environment by vehicle, guided canoes and boats.
On arrival you will be shown your room and given time to unpack and relax before coming through to enjoy dinner on the dining deck.
Night's 2 & 3 Itinerary
KOSI FOREST LODGE
iSimangaliso Wetland Park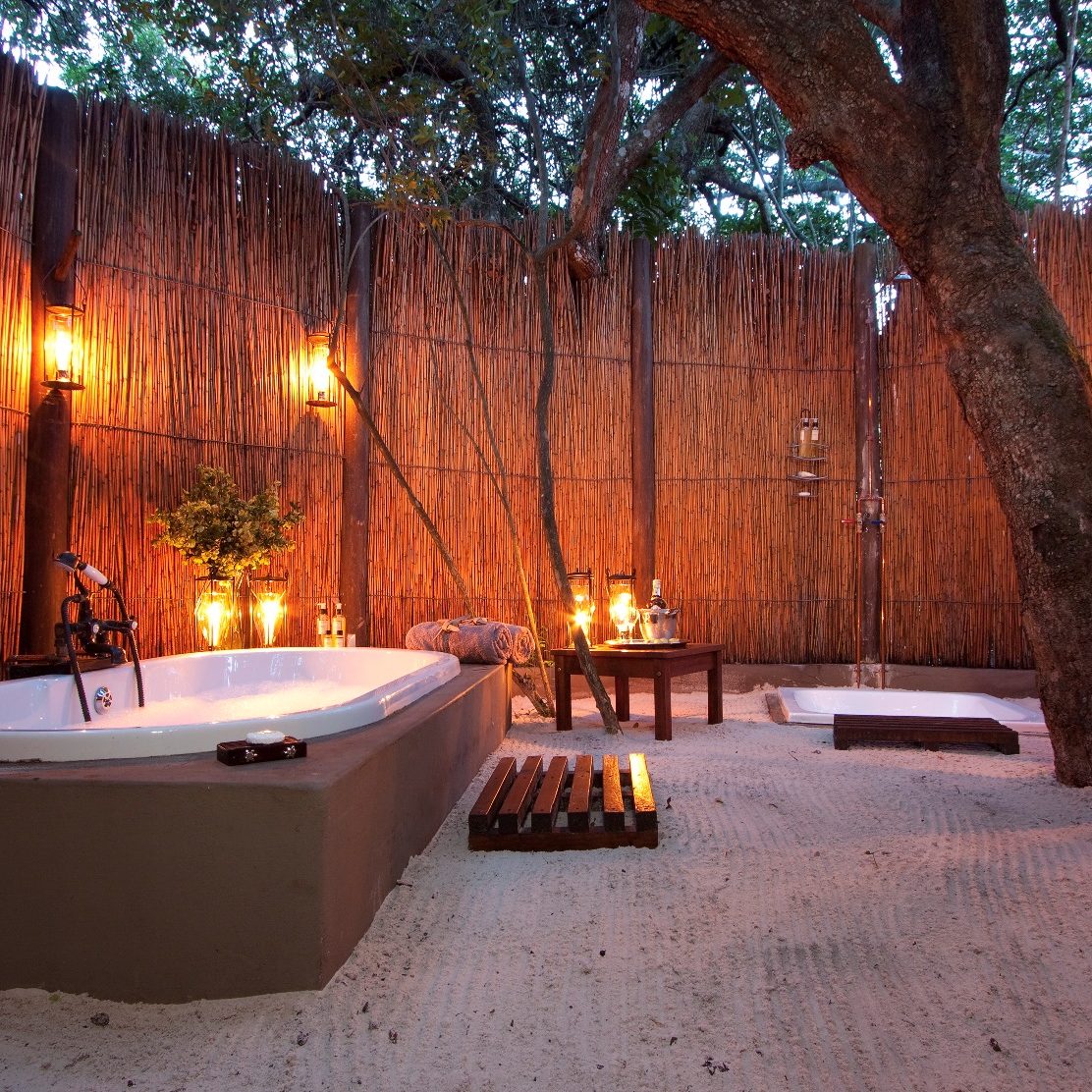 Kosi is tucked into the tranquil sand forest alongside the Kosi Lakes – and after a relaxed breakfast you can head off on a full day boat trip through the Kosi Lakes followed by a picnic lunch on the beach.
On returning to the lodge in the afternoon relax in a bath set in white soft beach sand and under the canopy of the umdoni trees – a truly romantic experience.
Night 4 Itinerary
THONGA BEACH LODGE
iSimangaliso Wetland Park
After your morning activity, either a tranquil canoe trip or a walk in the raffia forest, you will be returned to Manguzi to continue around to the Coastal Cashew pick up point for a 12h00 or 15h00 transfer to Thonga Beach Lodge (2.5hr door to door). Alternatively, you could take the inter-lodge transfer to Thonga Beach Lodge, through the Coastal Forest (not recommended for self drive guests).
On arrival you will settle into your Honeymoon Suite and enjoy an afternoon activity in this pristine beach paradise.
Nights 5 - 7 Itinerary
THONGA BEACH LODGE
iSimangaliso Wetland Park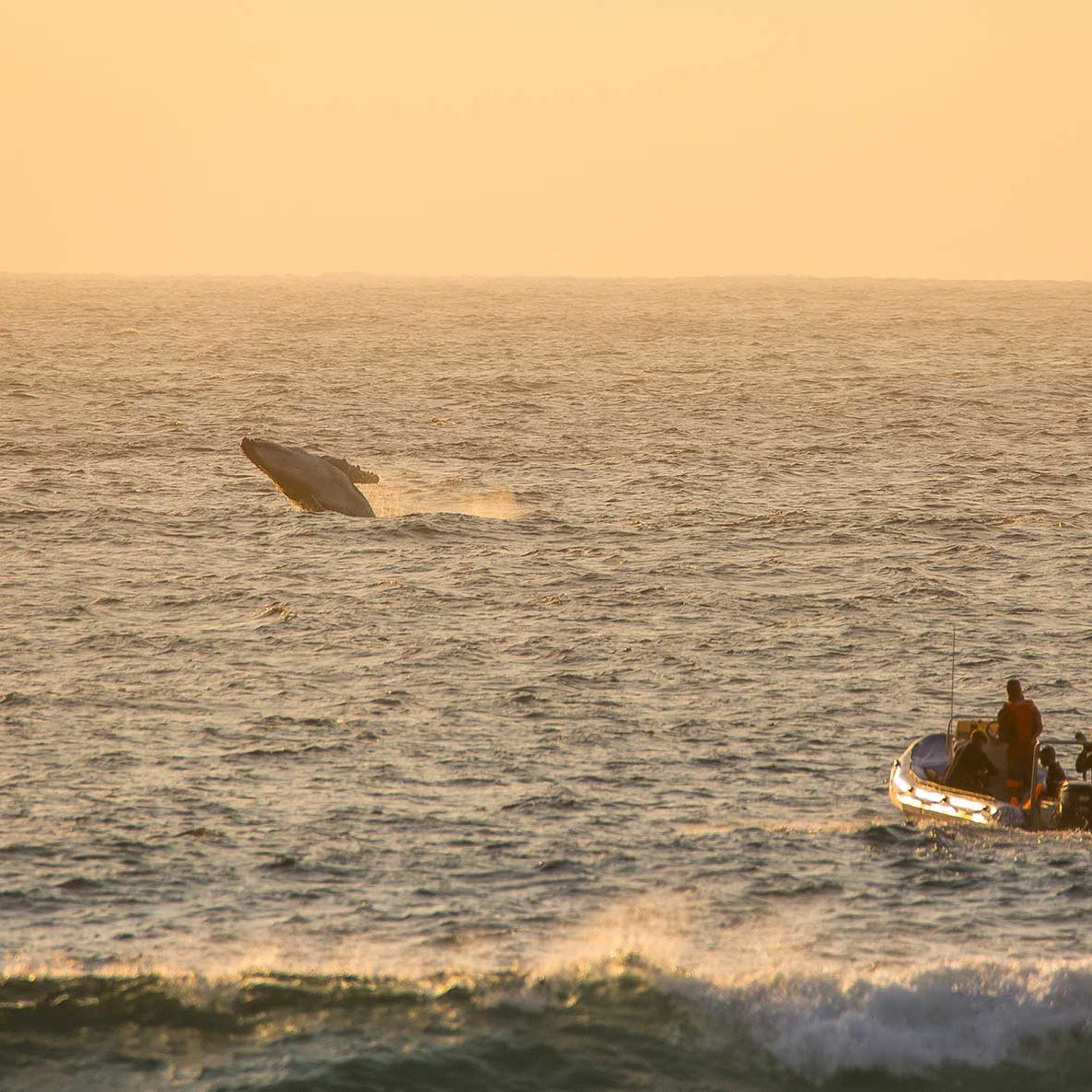 With 60kms of pristine soft white sandy beaches to explore, it's about as far away from civilization as you can get. Indulge yourself in the solitude of the underwater SCUBA world or massages at our sea spa. Take long romantic walks along the deserted beach or if you want to be more adventurous then take the boat trip into the ocean to explore the marine reserve. Enjoy excellent snorkeling or turtle tracking in season (Nov – Feb)
At the end of the day enjoy mouth watering cuisine at your romantic candlelit table.
After a morning activity you will check out of Thonga Beach Lodge and be returned to the pick up point at Coastal Cashews. The nearest airports are either Richards Bay (3.5hours) or King Shaka International Durban (5.5hours). Transfers are available through Isibindi reservations.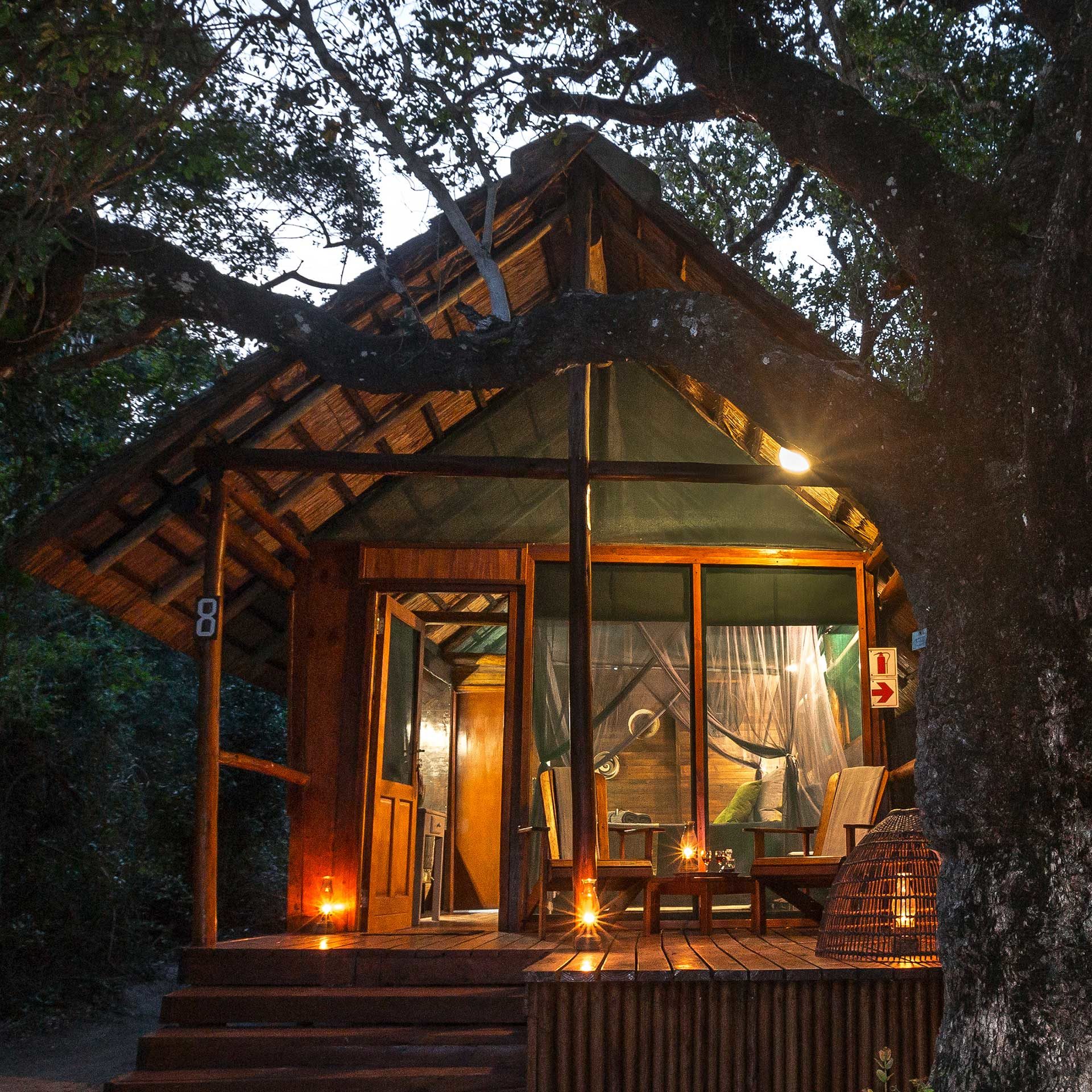 Kosi Forest Lodge is a haven of crisp, cool comfort in the sand forests and you will find that treading gently is a natural way of life in this soft sand forest. Glamping at its best, here you live amongst the trees, surrounded by birdsong. The perfect combination of thatch, canvas and wood, what sets these forest rooms apart is their unique bathrooms with an outdoor shower and deep, wide bath under a leafy canopy. Oil lamps are lit along the forest paths and in your outdoor bathroom, creating a warm glow and connection with the ancient past of this unspoilt land.
The gentle local staff are anxious to please and love to show off the beauty of this pristine part of the earth, be it gliding through a still river in a canoe, birdwatching, or taking you snorkeling at the Kosi Bay river mouth. They are only too delighted to pack you a generous picnic lunch or organise a private, candle-lit dinner under the stars at the open firepit. Enjoy your favourite sundowner drink at the pool which overlooks Lake Shengeza, where hippos grunt and fish eagles call.
The lodge is situated in a protected part of the iSimangaliso Wetland Park in Northern KwaZulu-Natal, famed for its diverse birdlife which includes forest, grassland and coastal birds. Palm-nut vulture and Pel's fishing owl are local delights. As you walk lightly on this beautiful part of our earth, you too will become the gentlest version of yourself. Please visit the website for more information: www.kosiforestlodge.co.za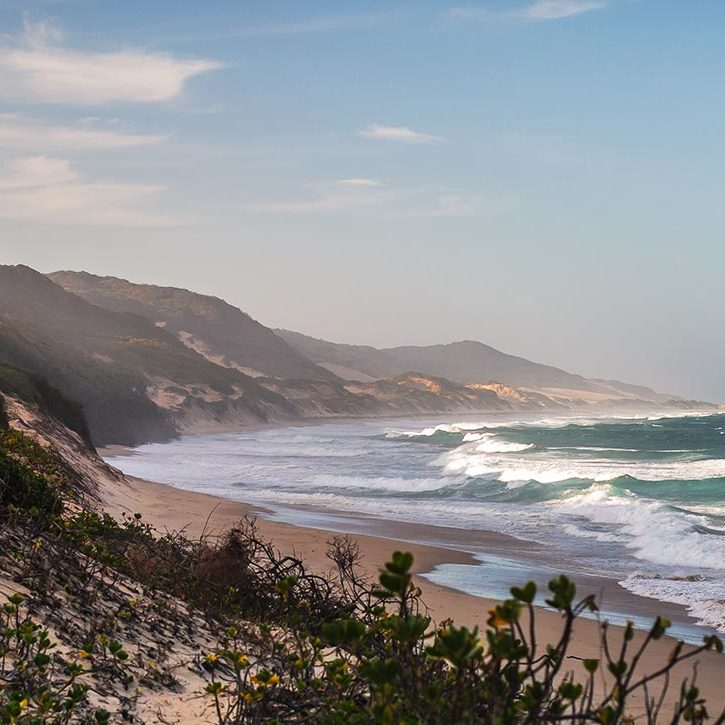 Every now and again something special comes along… like Thonga Beach Lodge, the unspoilt gem of KwaZulu-Natal's Maputaland coast. Situated in South Africa's first World Heritage Site, the iSimangaliso Wetland Park, Thonga Beach Lodge is mere metres away from the sparkling Indian Ocean. Beneath the breakers lies a treasure trove of marine life, from vivid reef fish to schools of dolphins, and even turtles returning to the beach to lay their eggs. Thonga's 12 thatched eco-sensitive rooms are positioned for maximum privacy and minimal environmental impact. The rooms are built on raised platforms among the indigenous forest and undulating dunes with expansive glass windows and doors to let in the ocean breeze and sounds.
Make your journey all the more memorable when you enjoy close encounters with nature. Indulge in a spa treatment; track mother turtles laying their eggs; explore the reefs beneath with a snorkel or SCUBA dive; or go on a guided forest walk. Feel assured that you're travelling with purpose, discovering and helping to preserve one of the last undeveloped wilderness beaches left on the African continent. Please visit the website for more information: www.thongabeachlodge.co.za